471 North Street, Albury, NSW, 2640 (Greenfield Park)

Table Tennis in Albury Wodonga. Catering for all players.

Pennant competition and Keenagers (for over 50′)
Spring Season Pennant Draws have been posted, please check the Results page and your Division for details.
Note: – We are looking for 2 players for Division 4, (So the draw may change a little) if you want to play or know of anybody please give me a call, Ian, 0408 154 381 or Cody 0499 368 041
For School aged players
– We are part of the NSW Active Kids program, click on the link for more information.
– We run a coaching program on Wednesday from 4.30 pm to 6.00, cost just $5.00, help improve your game whilst having some fun.
The NSW Government has Grants available for sporting clubs.
If you LIVE in NSW please go to this site and vote for our club, the more votes we get the better chance for a grant. Thanks for helping.
https://mycommunityproject.service.nsw.gov.au/
Getting Ready for the 2020 ITTF Champoinships. Steve Dainton visited Busan, Korea. Check it out (facebook link)
Have you got your tickets in our raffle to go to this event. !!!!!!!!!!
Country Week results.
Congratulations to all our Country Weeks teams. You have done our club proud. We came home with two trophies, C4, Adrian Rix, Casey Barker and Steve Bell and D4, Cody Luton, Max and Levi Geering. Max Geering was also leading player in D3. Dean Bilston was runner up in the over 30 singles.
Teams Results (PDF 160 KB) Individual results (PDF 875 KB)

Congratulations to Zac & Luke Van Zanten, bronze metal winners in the NSWTTA schoolboys cup, open senior division. 4 of the 6 local teams made it to the knock out phase. And a big thanks to Ken Smith for organising local players to be represented at this event.
AWTTA celebrate 50 years
What a great night it was for our 50 year celebration tonight, Friday 24th May 2019.
About 80 members attended and we enjoyed a dinner together before playing some doubles and singles matches.
There was a big announcement also made tonight, former AWTTA player, Steve Dainton, who is now the CEO of ITTF, congratulated the club on achieving 50 years , and he has donated a trip to the 2020 ITTF World Championship in Korea next year. The committee will decide on Monday how to use this generous gift donated by Steve.
Below is Steve's message and some photos from tonight.
Congratulations to our Doubles winners, Max Geering & Hans Blas and our Singles winner Jay Blanes.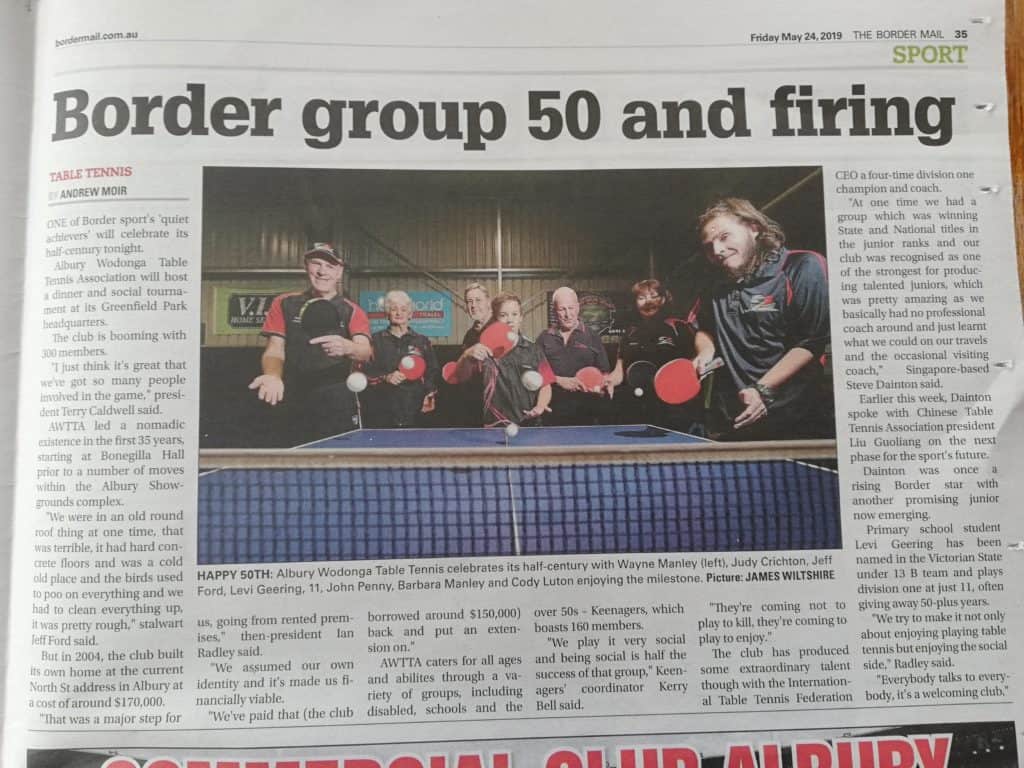 Levi Geering has been chosen to represent Victoria in the Under 13B side at the upcoming Wollongong event in July this year. Well done Levi, and good luck.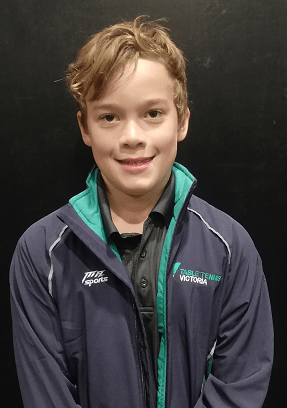 Monthly coaching

Sam Palmer, Mornington Peninsula Coach will be running coaching sessions at our club. The next is on June 1st.
There will be two sessions on each of those Saturdays, 9.30am to 12.00pm and 1.00pm to 3.30pm.
The cost will be $35 for one session (either one) and $65 for both sessions. Just $5 more than MPTTA sessions to cover some of Sam's travel costs.
Please book sessions for those two dates by emailing President@awtta.org.au
MARCH 14TH (THURSDAY) 12-2PM.
LATROBE UNIVERSITY MARKET DAY
Thanks to Darryl & Tylar Young for representing our club at La Trobe. Jarryd Tormey was there and had a game with Tylar.
MARCH 1ST (FRIDAY) 4PM-7PM
DEFENCE COMMUNITY ORGANISATION FAMILY EXPO.
We went to this event at Wodonga TAFEspace, Getting the word out to the local Community, and to our new Residents at Bandiana.