471 North Street, Albury, NSW, 2640 (Greenfield Park)

Table Tennis in Albury Wodonga. Catering for all players.

Pennant competition and Keenagers (for over 50′)
AWTTA VETERANS TOURNAMENT: Finished.
There were 17 locals amongst the 104 entrants and here are some winner and runner-up results for the AWTTA members:
Winner Over 70 Mixed Doubles: Sandra Eldridge & Geert Mensinga.
Winner Over 60 Women's Doubles: Sandra Eldridge & Julie McKenzie-McHarg.
Winner Div 4 (Rating under 1000) Singles (Sunday): Terry Caldwell
Runner-up Over 80 Singles: Kevin Phibbs.
Runner-up Over 70 Women's Singles: Sandra Eldridge.
Runner-up: Over 70 Men's Doubles: Wolf Forke & Chris Grealy.
Runner-up Over 65 Men's Doubles: Geert Mensinga & Rick Reitenbach.
Runner-up Over 65 Women's Doubles: Lyn Forke & partner.
Runner-up Div 3 (Rating under 1300) Singles (Sunday): Ian Radley
Runner-up Div 4 (Rating under 1000) Singles (Saturday): Doug Rose.
Runner-up Div 4 (Rating under 1000) Singles (Sunday): Robert Oliver
Albury Wodonga Table Tennis Association Incorporated
Annual General Meeting
Friday 8 December 2023 commencing at 6.30pm
AWTTA Clubrooms, 471 North Street (Greenfield Park), Albury NSW 2640
AGENDA
Welcome by Chair
Attendance and Apologies
Minutes of previous AGM held on 2 December 2022
Matters arising from previous Minutes.
President's Report (Terry Caldwell)
Pennant Coordinator's Report (Ian Radley)
* Including presentations to Club Champions
Treasurer's Report (Rick Woods)
Election of Committee for 2024
President
Vice-President
Secretary
Treasurer
Ordinary Committee Members (5 positions)
General Business
Closure
Please note:
There will be a BBQ and some social play after the AGM. To assist with catering please add your name to the list available at the Office.
Nominations for Committee (form) positions are to be submitted to the Secretary by 1.00pm on Friday 1 December 2023 using the attached form. Role statements are available on the AWTTA website [awtta.org.au] via the "General Information" page.
2023 Spring Season Results
Our Spring Season is coming to a close. Finals starting 28th Nov. Results will be posted as available.
Division 1 Leading Player –Levi Geering
Division 1 Final Results –
Division 2 Leading Player – Rohan Hempel
Division 2 Final Results –
Division 3 Leading Players – Paul Hossack & Julien Brown
Division 3 Final Results –
Division 4 Leading Player – Cassie Kreutzberger
Division 4 Final Results –
Photos available on our Photos page.
2023 Club Championship results
Division 1 Levi Geering Def Max Geering 11-13, 9-11. 11-9, 11-9, 11-8
Division 2 Cameron Burt Def Ethan Hailey 11-6. 11-7, 11-13
Division 3 Lucas Welsh Def Andrew Welsh 11-7. 6-11, 11-6, 11-2
Division 4 Cassie Kreutzberger Def Chloe Bollingmoore 7-11, 11-8, 11-7, 11-0
Photos available on the Photos page.

Fill in Players.
Our Pennant season has started; however, we are always looking for fill in players. We have 4 divisions run over Tuesday and Thursday.
If you are interested contact Ian Radley 0408 154 381

Sunday Social Play 1 PM to 4 PM each Sunday $5 fee.
Come along, bring a friend and enjoy a game or several.
We can supply bats if needed.

Keenagers (Over 50 Group) Mon, Wed & Friday 8.30 am to 12 noon.
Social play and social gathering for all. Come along and try and enjoy some Table Tennis, a chat and some morning tea.
2023 Winter Season Leading Players and Team Winners
Congratulations to all players.
Division 1 Leading Player: Levi Geering & Ash Wurtz
Division 1 Team Winners: Albury Engineering Mowing
Levi Geering, Tyler Green, Ian Jones (6) Def Arnold's Fruit Market
Ashley Wurtz, Mitchell Smith (Fillin), Josh Kelly, Stuart Davidson (away) (5)
Division 2 Leading Player: Cameron Burt & Tyler Green
Division 2 Team Winners Delited Cleaning Service
Tyler Green, Antonio Fernandez, Zachary Moffat (6) Def Table Tennis World
Josh Kelly, Richard Rick Woods, Tenniell Evans (4)
Division 3 Leading Player: Chris Grealy
Division 3 Team Winners: Border Sign Studio
Paul McAlister, Andrew Welsh, Adam Batt (6) Def Table Tennis World
Christopher Grealy, Julien Brown (Fillin), Nicholas Ratcliffe, Lucas Welsh (Away) (2)
Division 4 Leading Player: Neil Kreutzberger
Division 4 Team Winners Daintree Dental, Will Kaye, Myles Hardge (3) Def Commercial Club , Neil Kreutzberger, Cassie Kreutzberger (2)
Photos available on the Photos page.

2023 Summer Season Leading Players and Team Winners
Congratulations to all players.
Division 1 Leading Player Levi Geering
Division 1 Team Winners HelloWorld: Ash Wurtz, Dean Bilston, Eamon O'Dowd
Division 2 Leading Player Cameron Burt & Eamon O'Dowd
Division 2 Team Winners Table Tennis World Josh Kelly, Terry Caldwell, Julie McKenzie-McHarg
Division 3 Leading Player David Avery & Antonia Fernandez
Division 3 Team Winners Table Tennis World: Jo Cantor, Iain Dalitz, Ethan Tschirpig
Division 4 Leading Player Julien Brown
Division 4 Team Winners Commercial Club Craig Fischer, Parv Gevariya
Photos will be on the Photos page soon.
Equipment order form. Fill in the attached and return if you require any equipment.
Pennant Grand Finals
Div 4 Thursday 8th Dec
Commercial Club, Zachery Ryan, Craig Fisher
4 def Kobi Energy, Evan Welsh, Hannah Chuwan 3
Leading Player Zachery Ryan
Div 3 Tuesday 13th Dec
Delited Cleaning 6, Justin Bui, Iain Dalitz, Troy Peiper
Def AlburyCity 3, Jack Grainger, Stacy MacKenzie, Andrew Welsh
Leading Player Tyler Green
Div 1 Tuesday 13th Dec
Commercial Club 6, Max Geering, Luke Van Zanten, Mitchell A Smith
Def Delited Cleaning 3, Geoff Prior, Ashley Wurtz, Steve Bell
Leading Player Max Geering
Div 2 Thursday 15th Dec
Border Sign Studio 6, Rohan Hempel, Daniel Sutton, Vincent Blanes
Def Seaton Arms Motor Inn 5, Cameron Burt, Luke Norton-Smith, Tenniell Evans
Leading Player Brendan Burt
Photos on our Photos Page
North East Challenge held 6th Nov 22. Teams from Albury Wodonga, Yarrawonga, Wangaratta and Shepparton. Thanks to all players from all Clubs, some wonderful Table Tennis and social activity. Good to see it back up and running again.
See our Photo page for photos and results.
Congratulations to our 2022 Club Champions
Division 1 Max Geering
Division 2 Cameron Burt
Division 3 Tyler Green
Division 4 Zachery Ryan
See Photos page for more info.
Our Winter Finals Results
Division 1 (16/08/22)
V&P Brosolo – Dean Bilston, Ash Harding, Daniel McLaurin 6 Def
Kobi Energy – Adrian Rix, Hayden Scott, Aaron Pimm 5Leading Player – Dean Bilson
Division 2
V&P Brosolo – Rohan Hempel, Hugh Lawrence, Louis Wolmarans (Fillin),
Jack Parker (Away) 6 Def
Kobi Energy – Vilfred Correa, Paul Haman, Vincent Blanes 4
Leading Player – Vilfred Correa
Division 3 (16/08/22)
Helloworld – Andy Nguyen, Justin Bui, Darsh Shah, 6 Def
Daintree Dental – Kevin Dove, John Pimm, Tyler Green 1
Leading Player – Andy Nguyen
Division 4
V&P Brosolo – Hudsynn Jackson, Alex Pope, Zach Ryan 6 Def
Table Tennis World – Andrew Welsh, Devitt Harrison, Cassie Kreutzberger 1
Leading Player Hudsynn Jackson

See Photo's page for photos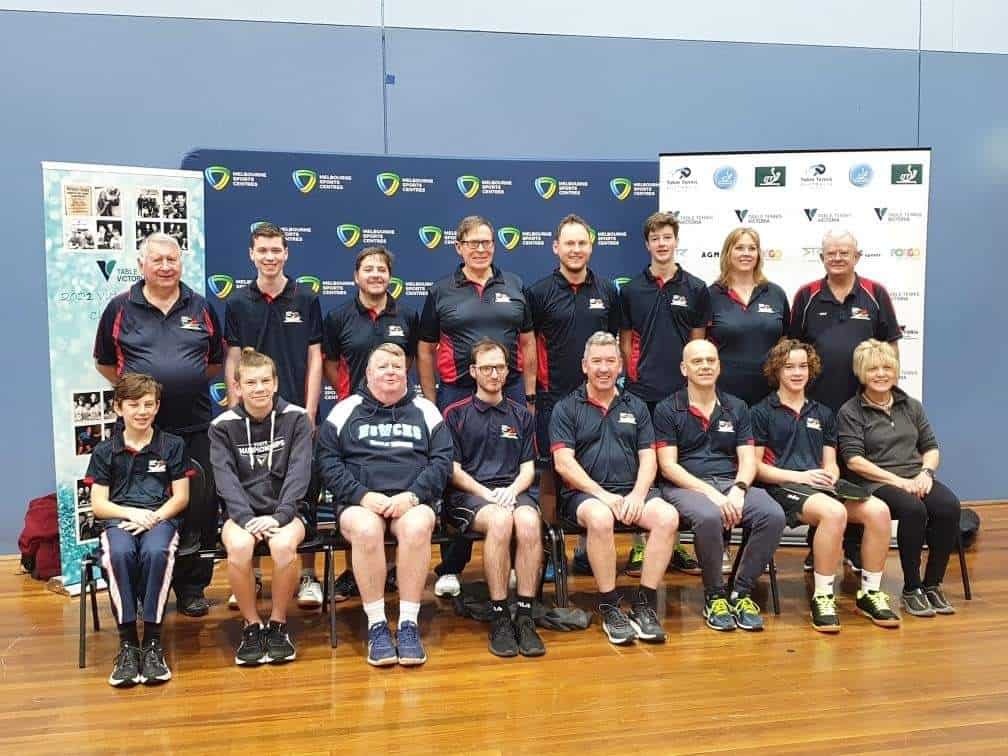 Congratulations to Luke Van Zanten (Under 19's), Max Geering (Under 17's) and Levi Geering (Under 15's) on selection in the Victoria teams to compete at the National Championships to be held in July. Their hard work, coaching and training has paid off for them.
Congratulations to our Summer 2022 Pennant Winners & Leading Players
(Photos on Photos page and Facebook)
Division 1 Border Sign Studio, Max Geering, Kevin Phibbs, Ash Harding
Leading Player Max Geering
Division 2 Delited Cleaning Service, Ken Smith/Mitchell smith, Rick Woods, Vilfred Correa
Leading Player Eamon O'Dowd
Division 3 Lester & Son, Peter Smith, Dhruv Kapoor, Fritz Wolmarans
Leading Player, Dhruv Kapoor
Division 4 Commercial Club, Bridie Evans, Alexander Pope, Zachery Ryan
Leading Player David Frizzell
Club Championships Tuesday 15th (Div 1 & 3) & Thursday 17th March (Div 2 & 4).
Congratulations to our 2021 (Covid delayed) Club Champions
Division 1 – Max Geering
Division 2 – Rohan Hempel
Division 3 – Daryl Stone
Division 4 – Darsh Shah
See our Photo page for more details. ** Div 1 final also on our facebook page.
Monthly coaching
Sam Palmer, an experienced coach from Cranbourne, conducts coaching sessions at our club.
There are two sessions on one Saturday per month, 9.30am to 12.00pm and 1.00pm to 3.30pm.
The cost is $35 for one session (either one) and $65 for both sessions. If you are interested email President@awtta.org.au who will advise coaching dates, as available.
Congratulations to our Spring 2021 Teams winners and to our Leader Players.
Well done everybody. Photos are on our Photo page.
Division 1 Helloworld Dean Bilston, Ash Wurtz, Brett Marsh
Division 1 Leading Player Max Geering
Division 2 Daintree Dental Geert Mensinga, Terry Caldwell, Tom Gibbs
Division 2 Leading Player Luke Van Zanten & Rohan Hempel
Division 3 777 Automotive Jo Cantor, Andy Nyugen, Michael Bilston
Division 3 Leading Player Daryl Stone
Yarrawaonga Results 4th 5th December 2021
Great result for the Teams Event .
Max Geering and Levi Geering won the A Grade teams event without dropping a match in 16 singles and 4 doubles matches. Max was best player in A Grade. Luke Van Zanten and Terry Caldwell won the B Grade teams event without dropping a match in 16 singles and 4 doubles matches. Luke was best player in B Grade.
Michelle Bowd received a trophy for most enthusiastic female player.
21 April 2021 marks the 50 year anniversary of the 'Australian Ping Pong Diplomacy Tour', where a group of five Australians travelled to China for competitions, training and cultural exchange. The Australian team comprised:
Noel Shorter (NSW) – Coach
Paul Pinkewich (NSW) – Player
Steve Knapp (NSW/VIC) – Player
Ann Middleton (née McMahon) (SA/NSW) – Player
Dr. John Jackson (SA) – President and Team Manager
The Tour played an important role in China opening their borders to the western world and was a precursor to official diplomatic relations being established between Australia and China. Noel, Paul and Steve, as the three surviving team members, reunited in Sydney to reminisce and celebrate their historic Tour.
https://youtu.be/4TIwED—gI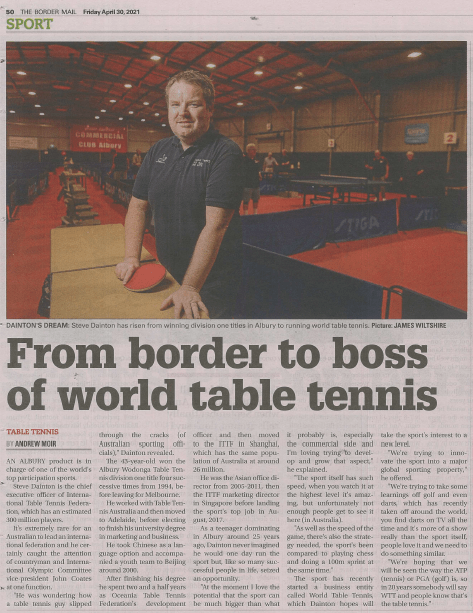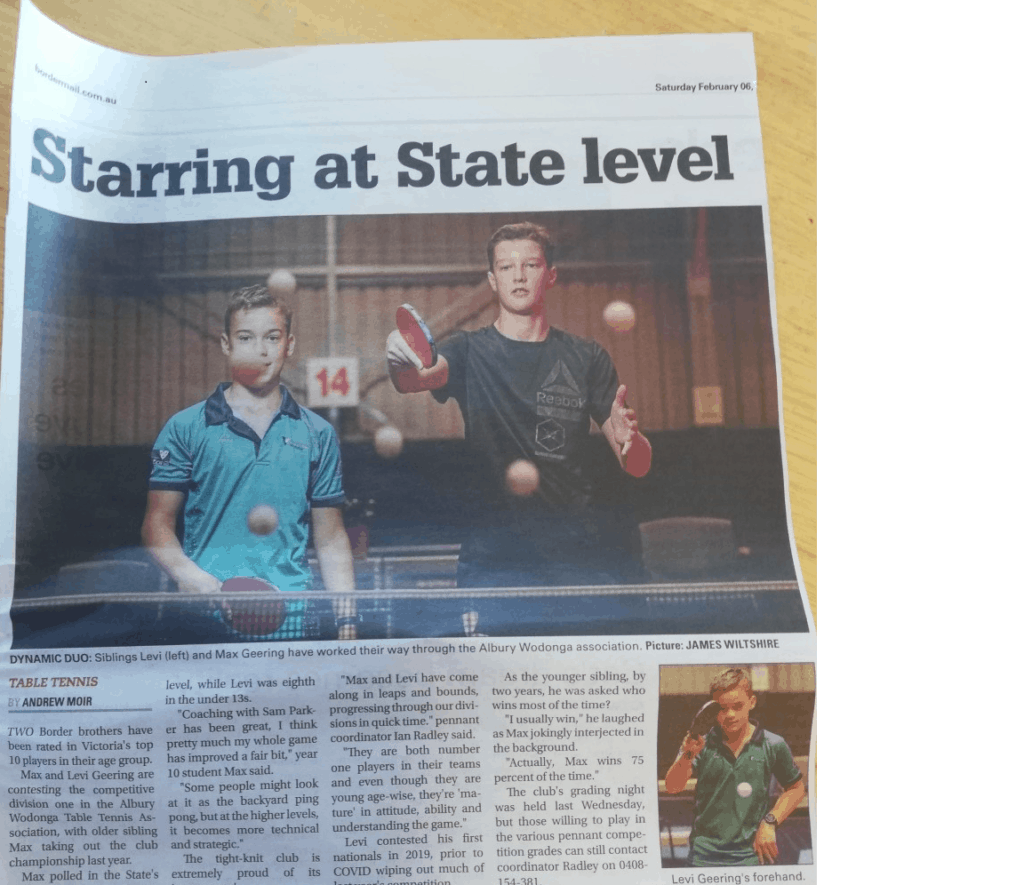 Congratulations to our 2020 Pennant Club champions
Division 1 Winner, Max Geering, Runner Up, Geoff Prior
Division 2 Winner, Ken Smith, Runner Up Cody Luton
Division 3 Winner, Nathan Jackson, Runner Up, Callum Sinclair
Division 4 Winner, Ayce Nicholson , Runner Up Robert Oliver
It was great to see all players play so well and wonderful sportsmanship between all players.
See photos page also.
Congratulations to our Spring 2020 Pennant winners
Division 1 – V.I.P, Levi Geering & Kevin Phibbs, Leading Player Max Geering
Division 2 – Commercial Club, Stuart Gibbs, Bruce Cowan, Vince Blanes. Leading Player Brett Marsh
Division 3 – AlburyCity, Luke Van Zanten & Callum Sinclair. Leading Player Luke Van Zanten
Division 4 – Border Sign Studio, Sharvessh Jayadrakash, Sharvikka Jayadrakash, Sarah Marsh. Leading Player Paul Thorpe.
See the photos page for team winners.
Our new flooring is taking shape. 2 courts have been glued and the remainder will be done on 24 & 25 July. It is looking very good.
A great interview with ITTF CEO, ex Albury player, Steve Dainton.
Well worth a look to see where our sport is heading.
Steve's Interview
Congratulations to our Club Champions this year (2019). Well done to all those that took part. There were some wonderful matches played. Photos and score on the photos page.
Division 1 Winner – Bas Smeulders, Runner Up – Daniel Joosten.
Division 2 Winner – Cameron Burt, Runner Up Rohan Hempel
Division 3 Winner – Luke Marsh, Runner Up – Pip Cain
Division 4 Winner – Joel Cook, Runner Up Caleb Scarlett
Country Week results (2019).
Congratulations to all our Country Weeks teams. You have done our club proud. We came home with two trophies, C4, Adrian Rix, Casey Barker and Steve Bell and D4, Cody Luton, Max and Levi Geering. Max Geering was also leading player in D3. Dean Bilston was runner up in the over 30 singles.
Teams Results (PDF 160 KB) Individual results (PDF 875 KB)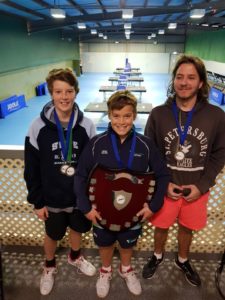 Congratulations to Zac & Luke Van Zanten, bronze metal winners in the NSWTTA schoolboys cup, open senior division. 4 of the 6 local teams made it to the knock out phase. And a big thanks to Ken Smith for organising local players to be represented at this event.
AWTTA celebrate 50 years
What a great night it was for our 50 year celebration tonight, Friday 24th May 2019.
About 80 members attended and we enjoyed a dinner together before playing some doubles and singles matches.
There was a big announcement also made tonight, former AWTTA player, Steve Dainton, who is now the CEO of ITTF, congratulated the club on achieving 50 years , and he has donated a trip to the 2020 ITTF World Championship in Korea next year. The committee will decide on Monday how to use this generous gift donated by Steve.
Below is Steve's message and some photos from tonight.
Congratulations to our Doubles winners, Max Geering & Hans Blas and our Singles winner Jay Blanes.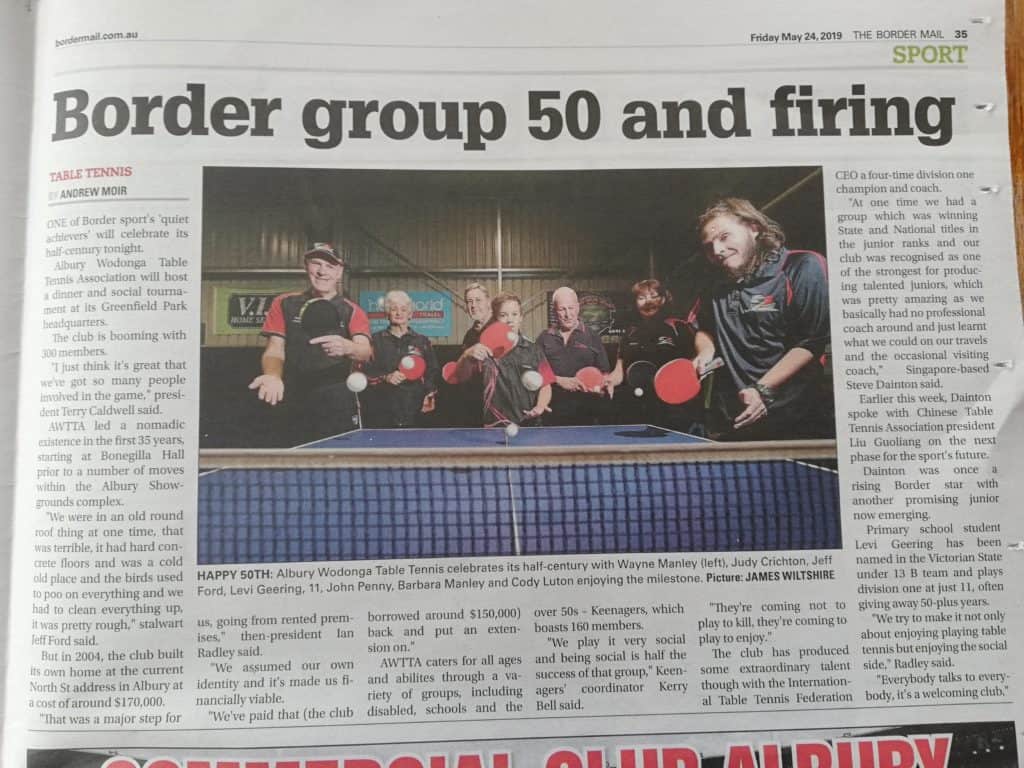 Levi Geering has been chosen to represent Victoria in the Under 13B side at the upcoming Wollongong event in July this year. Well done Levi, and good luck.