471 North Street, Albury, NSW, 2640 (Greenfield Park)

Table Tennis in Albury Wodonga. Catering for all players.

Pennant competition and Keenagers (for over 50′)
Current Open dates & times
Keenagers, as normal, Mon, Wed, Frid 0830 to 12 noon
Social Play Sunday 1 pm to 4 pm
Social Night Play Tuesday 18th & 25th Jan & 1st Feb 7 pm to 9.30 pm
From 8th Feb Pennant resumes on Tuesday & Thursday night.

Equipment order form. Fill in the attached and return if you require any equipment.

Grading & Registration for Summer Season
Wednesday 2nd February 2022 from 7 pm to 9 pm. Come along and try Table Tennis, meet our members, have some fun and join our club.
See Pennant (awtta.org.au) for more information and Registration (awtta.org.au) for registration details.
Our club welcomes all players from the beginner to the "could be world champion" player.
For more information contact Ian Radley 0408 154 381
Covid Club Requirements (24th Dec)

Masks are becoming mandatory in NSW indoor settings from midnight tonight (Thursday December 23). For AWTTA, players are once again expected to wear masks inside, while not playing, effective from Friday's Keenagers session..
QR Check-in will soon be mandatory for hospitality and retail settings. The Committee has determined that AWTTA will re-introduce this, starting with the Keenagers session on Friday December 24.
Social Distancing and Density Limits are to be changed to 1 person per 2 square metres for hospitality settings on Monday December 27. Our morning tea area is akin to a hospitality setting, so we will now have this density limit for the kitchen and dining area, starting from Friday December 24 (if it is worth introducing on December 27, it's even safer to start on December 24!). Keenagers will have to stagger their morning tea times, rather than all together at the one time.
Cleaning Tables will continue regardless of COVID restrictions, as it is always a good practice to have clean table. The committee is thankful for the members' diligence with the table cleaning.
Doubles permitted, but individuals may decide that they are more comfortable playing singles and will not be forced to play doubles at Keenager sessions.
Personal Hygiene is still paramount. Hand sanitiser will be available. A cleaning solution for cleaning Table Tennis balls will be available near the ball supply.
Wellness: Please do not attend if feeling unwell.
Exposure: If you know that you have been at a known exposure site during the time of exposure, please do not attend until you have been PCR tested and returned a negative result.
COVID Positive: If you return a positive result, please inform me immediately, so that appropriate action can be taken. Phone 0400 533 741 or email President@awtta.org.au
Congratulations to our Spring 2021 Teams winners and to our Leader Players.
Well done everybody. Photos are on our Photo page.
Division 1 Helloworld Dean Bilston, Ash Wurtz, Brett Marsh
Division 1 Leading Player Max Geering
Division 2 Daintree Dental Geert Mensinga, Terry Caldwell, Tom Gibbs
Division 2 Leading Player Luke Van Zanten & Rohan Hempel
Division 3 777 Automotive Jo Cantor, Andy Nyugen, Michael Bilston
Division 3 Leading Player Daryl Stone
Yarrawaonga Results 4th 5th December 2021
Great result for the Teams Event .
Max Geering and Levi Geering won the A Grade teams event without dropping a match in 16 singles and 4 doubles matches. Max was best player in A Grade. Luke Van Zanten and Terry Caldwell won the B Grade teams event without dropping a match in 16 singles and 4 doubles matches. Luke was best player in B Grade.
Michelle Bowd received a trophy for most enthusiastic female player.
Current requirements at our Club
Face Masks must be worn to enter and when not playing.
All people entering are required to QR code in.
Double vaccination is required for anyone over the age of 16, unless you have an exemption.
Current Opening Times
Sunday 1 to 4 pm
Keenagers, Mon, Wed, Frid 8.30 to 12 pm.

Pennant Competition has returned
Pennant Competition resumed from the first week of November until 16th December.
Division 1 & 3 – Ian Radley 0408 154 381 (Tuesday night 6.15 to 10 pm)
Division 2 – Cody Luton 0499 368 041 (Thursday night 6.15 to 10 pm)
Our 2022 Pennant season details are available on our Pennant page.
Results pages have the Draws and results for each Division for 2021.
2022 Registration forms are available on the Registration page
Pennant Finals
Due to the Victoria Lockdown our finals could not be completed.
Congratulations to the following players : –
Division 1 and 3 joint winners for both teams that made the Grand Final.
Division 1: –
Albury City Max Geering, Kevin Phibbs, Hayden Scott, Ken Smith (fillin)
Commercial Club Levi Geering, Dean Bilston, David Marsh
Division 3: –
Commercial Club Chris Wolmarans, Louis Wolmarans, Sofia Oliver
Border Sign Studios Joel Lee, Adam Whitwell, Ftriz Wolmarans (Fillin)

Division 2 and 4 did not play any finals, so the "top of the ladder" team has been declared the winner.
Division 2: –
Delited Cleaning Service Cody Luton, Daniel McLaurin, Tim Shippard
Division 4: –
Commercial Club Jacob Kavanagh, Joel Polkinghorne, Meera Shah.

Congratulations to Max Geering who has been chosen to represent Victorian in the Under 17 YO team, and Levi Geering to represent Victoria in the Under 15 YO Victorian team
21 April 2021 marks the 50 year anniversary of the 'Australian Ping Pong Diplomacy Tour', where a group of five Australians travelled to China for competitions, training and cultural exchange. The Australian team comprised:
Noel Shorter (NSW) – Coach
Paul Pinkewich (NSW) – Player
Steve Knapp (NSW/VIC) – Player
Ann Middleton (née McMahon) (SA/NSW) – Player
Dr. John Jackson (SA) – President and Team Manager
The Tour played an important role in China opening their borders to the western world and was a precursor to official diplomatic relations being established between Australia and China. Noel, Paul and Steve, as the three surviving team members, reunited in Sydney to reminisce and celebrate their historic Tour.
https://youtu.be/4TIwED—gI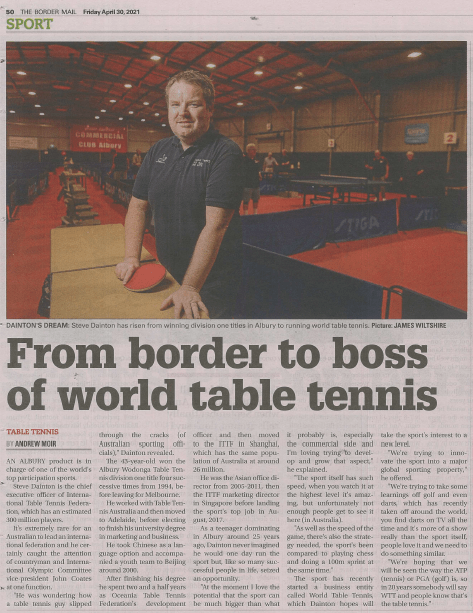 Monthly coaching

Sam Palmer, Mornington Peninsula Coach will be running coaching sessions at our club.
There will be two sessions a Saturdays, 9.30am to 12.00pm and 1.00pm to 3.30pm.
The cost will be $35 for one session (either one) and $65 for both sessions. Just $5 more than MPTTA sessions to cover some of Sam's travel costs.
If you are interested email President@awtta.org.au who will advise the dates coaching will be held.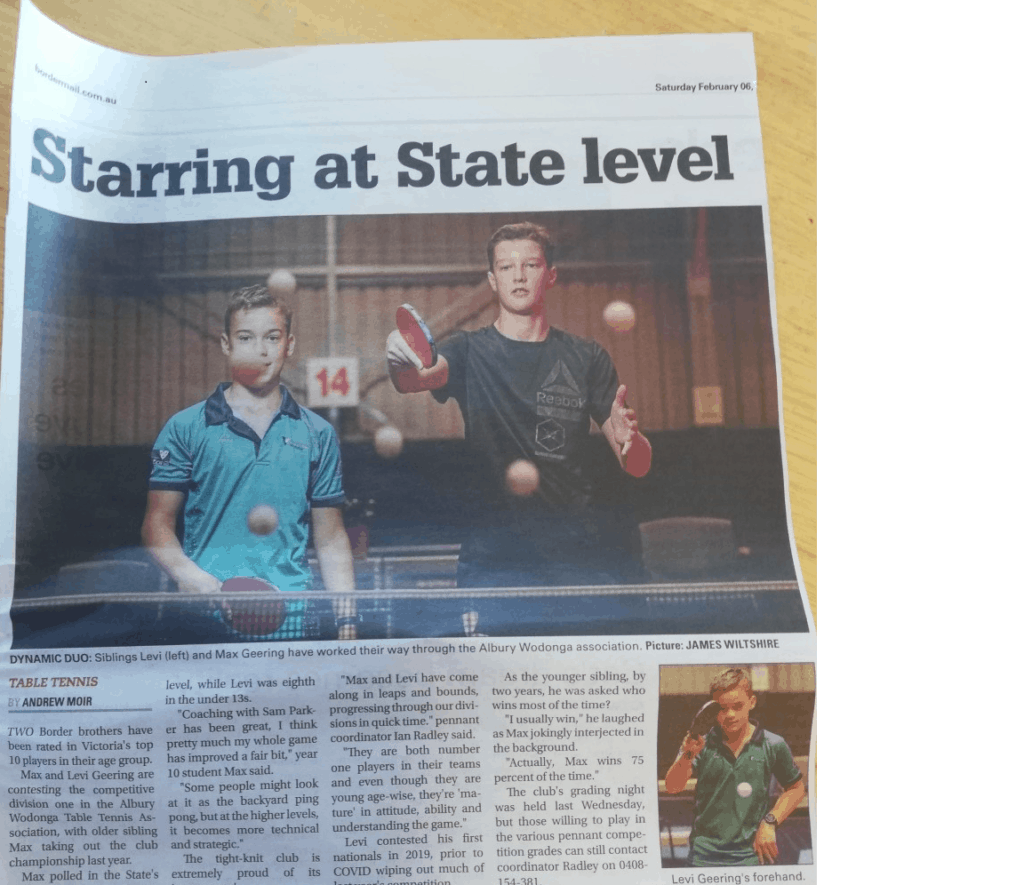 TTV has updated the list of available concessions that can be used for Pennant players this year. Please see the attached link for the details. TTV Link .
Note :- Players will be required to show proof of concession and a copy must be provided at time of registration
The fees for 2021 are Concession $80.00, Adult $100, Social $35
Congratulations to our 2020 Pennant Club champions
Division 1 Winner, Max Geering, Runner Up, Geoff Prior
Division 2 Winner, Ken Smith, Runner Up Cody Luton
Division 3 Winner, Nathan Jackson, Runner Up, Callum Sinclair
Division 4 Winner, Ayce Nicholson , Runner Up Robert Oliver
It was great to see all players play so well and wonderful sportsmanship between all players.
See photos page also.
Congratulations to our Spring 2020 Pennant winners
Division 1 – V.I.P, Levi Geering & Kevin Phibbs, Leading Player Max Geering
Division 2 – Commercial Club, Stuart Gibbs, Bruce Cowan, Vince Blanes. Leading Player Brett Marsh
Division 3 – AlburyCity, Luke Van Zanten & Callum Sinclair. Leading Player Luke Van Zanten
Division 4 – Border Sign Studio, Sharvessh Jayadrakash, Sharvikka Jayadrakash, Sarah Marsh. Leading Player Paul Thorpe.
See the photos page for team winners.
Welcome aboard to our new Committee Members, nominated and successful at our AGM on 4/12/20.
Our new committee is:-
President – Terry Caldwell, Vice President – Ian Radley, Treasurer – Rick Woods, Secretary – Janet Dennis
Committee Members – Ivan Church, Cody Luton, Ash Wurtz, Adrian Rix, Brett Marsh
The club re opening, as reported by Prime TV, 29th July. https://www.facebook.com/Prime7NewsBorder/videos/755995855216832
Our new flooring is taking shape. 2 courts have been glued and the remainder will be done on 24 & 25 July. It is looking very good.
A great interview with ITTF CEO, ex Albury player, Steve Dainton.
Well worth a look to see where our sport is heading.
Steve's Interview
Congratulations to our Club Champions this year (2019). Well done to all those that took part. There were some wonderful matches played. Photos and score on the photos page.
Division 1 Winner – Bas Smeulders, Runner Up – Daniel Joosten.
Division 2 Winner – Cameron Burt, Runner Up Rohan Hempel
Division 3 Winner – Luke Marsh, Runner Up – Pip Cain
Division 4 Winner – Joel Cook, Runner Up Caleb Scarlett
For School aged players
– We are part of the NSW Active Kids program, click on the link for more information.
– We run a coaching program on Wednesday from 4.30 pm to 6.00, cost just $5.00, help improve your game whilst having some fun.
Country Week results (2019).
Congratulations to all our Country Weeks teams. You have done our club proud. We came home with two trophies, C4, Adrian Rix, Casey Barker and Steve Bell and D4, Cody Luton, Max and Levi Geering. Max Geering was also leading player in D3. Dean Bilston was runner up in the over 30 singles.
Teams Results (PDF 160 KB) Individual results (PDF 875 KB)

Congratulations to Zac & Luke Van Zanten, bronze metal winners in the NSWTTA schoolboys cup, open senior division. 4 of the 6 local teams made it to the knock out phase. And a big thanks to Ken Smith for organising local players to be represented at this event.
AWTTA celebrate 50 years
What a great night it was for our 50 year celebration tonight, Friday 24th May 2019.
About 80 members attended and we enjoyed a dinner together before playing some doubles and singles matches.
There was a big announcement also made tonight, former AWTTA player, Steve Dainton, who is now the CEO of ITTF, congratulated the club on achieving 50 years , and he has donated a trip to the 2020 ITTF World Championship in Korea next year. The committee will decide on Monday how to use this generous gift donated by Steve.
Below is Steve's message and some photos from tonight.
Congratulations to our Doubles winners, Max Geering & Hans Blas and our Singles winner Jay Blanes.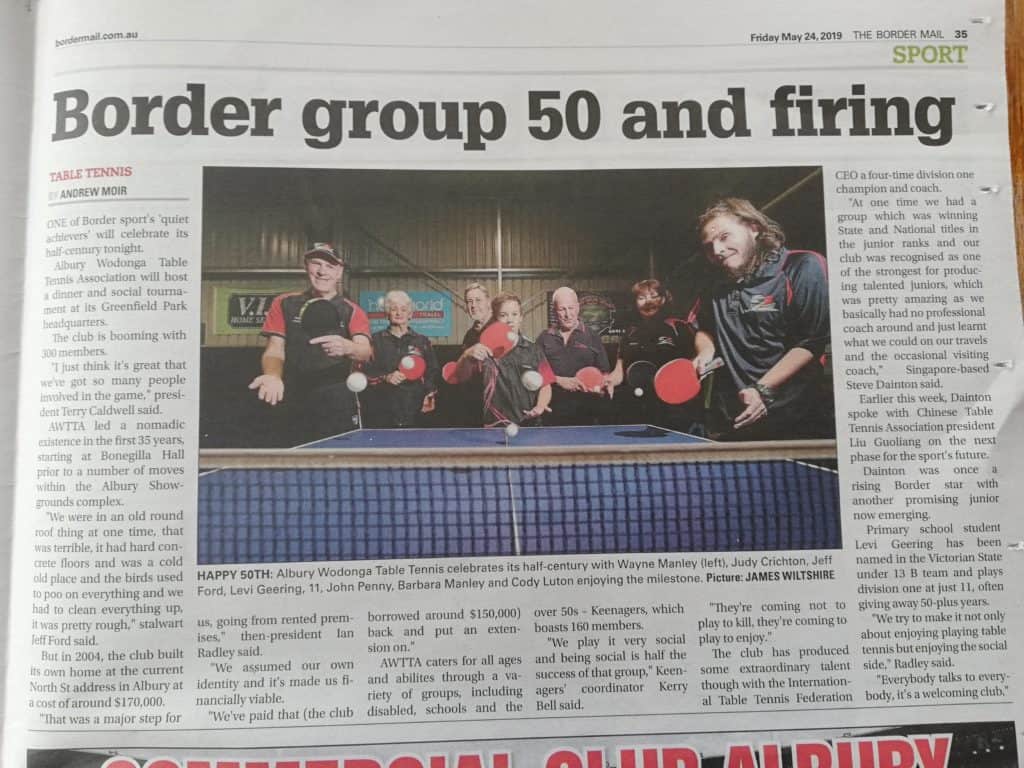 Levi Geering has been chosen to represent Victoria in the Under 13B side at the upcoming Wollongong event in July this year. Well done Levi, and good luck.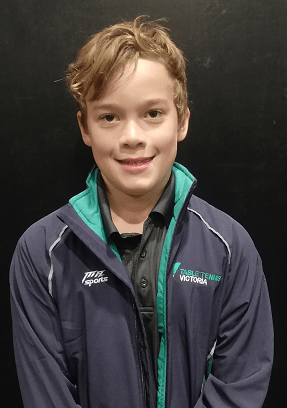 MARCH 14TH (THURSDAY) 12-2PM.
LATROBE UNIVERSITY MARKET DAY
Thanks to Darryl & Tylar Young for representing our club at La Trobe. Jarryd Tormey was there and had a game with Tylar.
MARCH 1ST (FRIDAY) 4PM-7PM
DEFENCE COMMUNITY ORGANISATION FAMILY EXPO.
We went to this event at Wodonga TAFEspace, Getting the word out to the local Community, and to our new Residents at Bandiana.