471 North Street, Albury, NSW, 2640 (Greenfield Park)

Table Tennis in Albury Wodonga. Catering for all players.

Pennant competition and Keenagers (for over 50′)
CLUB CHAMPIONSHIPS
The pennant club championships will be held on Tuesday 15th December for Division 1 & 3 and Thursday 17th December for Division 2 & 4.
Eligibility as per club by-laws:
5.3 Club Championships
5.3.1 A player must be registered with AWTTA Inc.
5.3.2 A player must have played at least four (4) pennant matches in any one season in the current calendar year.
5.3.3 A player must play in the grade level stipulated as his/her assessed division.
Bookings are required (Covid 19), please see our booking page.
UPCOMING EVENTS – BOOKINGS REQUIRED (Via Booking page)
AGM – Friday 4th December, 7.00pm then followed by Social Play – NOTE – No food or BBQ this year due to Covid requirements.
AWTTA Christmas Lunch – Friday 11th December, 12.30pm to 3.00pm. Commercial Club, Stanley Room, Albury.
Maximum 100 people, $20 per head (AWTTA Social Funds will contribute the remaining funds)
We have opened up new booking times, go to our "booking" page, please read the instructions prior to booking. Victorian Residents can now book and attend the club, providing they have a Border Permit.
The club re opening, as reported by Prime TV, 29th July. https://www.facebook.com/Prime7NewsBorder/videos/755995855216832
Our new flooring is taking shape. 2 courts have been glued and the remainder will be done on 24 & 25 July. It is looking very good.
A great interview with ITTF CEO, ex Albury player, Steve Dainton.
Well worth a look to see where our sport is heading.
Steve's Interview
Our club is currently closed due to Covid 19.
During this time our club has obtained a NSW Government grant via the community building partnership (2019).
This grant was obtained for flooring to allow us to replace the existing floor.
Work will commence shortly to prepare the complex for the new flooring to be laid, which should arrive late June.
We hope to have the complex open again, with new flooring, in mid July.
Check back for updates on our flooring.
We look forward to seeing you then.
Are you looking to keep your skills up to date whilst we are not able to play. Well check out what HWATT are offering to help player training at the moment.
https://app.clubworx.com/websites/hwattlive
There are some free lessons coming up for you to try.
We hope everybody is keeping well in these times. Maybe you are looking for something to do, maybe entertain the children. Have a look at the attached from TTA and the Spinnero's. A Little bit of fun !!! (PDF 827 KB) Home Table Tennis Guide
Now no option but to close. AWTTA complex will be closed until further notice due to the ongoing Covid -19 scenario.
Presidents Letter (PDF 178 KB)

AWTTA statement re COV-19/Coronavirus as per AWTTA Committee meeting at 1.00pm on Friday March 20, 2020, with all committee members present. (PDF 101 KB)
Keenagers Event 27 & 28th March has been cancelled. We hope to run the event later in the year.
See the TTV (click on TTV) web site for updates of TTV events and what clubs are doing re the Covid-19 Virus
UPDATES
TTV has reduced the Adult registration fee for Adults (Feb 2020) to $100 for the year. The forms on the Registration page have been updated now.
2020 TTV Membership Fees ( See Registration page re concession rates for 2020. )

Results of the SGM with TTV (TTV Link)
https://www.tabletennisvic.org.au/news/outcome-of-ttv-special-general-meeting-monday-24-february-2020/

2020 ITTF Events calendar (Alterations due to outbreak of COVID-19 ) – ITTF link
https://www.ittf.com/2020-event-calendar/
The 2020 Pennant dates are available in the Pennant tab. The calendar has also been updated.
Our club is doing a Fundraiser for the Bushfires that are effecting our area at the moment. It kicked off with a morning tea at Keenagers, they donated $1800 towards the fundraiser. A Great effect.
Any donations will be greatly appreciated and can be placed into the clubs bank.
The AWTTA bank details are BSB: 633000; Account Num: 122702285. Please use "Bushfires" as the reference. or pass money onto Kerry Bell, or on a Sunday to Rick Woods, or Cody Luton.
TTV has updated the list of available concessions that can be used for Pennant players this year. Please see the attached link for the details. TTV Link .
Note :- Players will be required to show proof of concession and a copy must be provided at time of registration
The fees for 2020 are Concession $80.00, Adult $120, Social $35
RAFFLE WINNERS. Congratulations to our raffle winners.
1st Prize, donated by ex Albury Player and current CEO of ITTF, Steve Dainton, a return trip, accommodation, VIP tickets to the 2020 World Table Tennis Championships in Korea.
John & Judith Grigg, Albury
2nd Prize, Helloworld, Albury, $500 Travel Voucher
Maree Byrnes, Wodonga
3rd Prize, V/Line travel to the value of $400
Ballarat TT c/o Kelly Smith
Thank you to all those that purchased tickets in our raffle and to the people and business that have support us.
Congratulations to our Club Champions this year. Well done to all those that took part. There were some wonderful matches played. Photos and score on the photos page.
Division 1 Winner – Bas Smeulders, Runner Up – Daniel Joosten.
Division 2 Winner – Cameron Burt, Runner Up Rohan Hempel
Division 3 Winner – Luke Marsh, Runner Up – Pip Cain
Division 4 Winner – Joel Cook, Runner Up Caleb Scarlett
For School aged players
– We are part of the NSW Active Kids program, click on the link for more information.
– We run a coaching program on Wednesday from 4.30 pm to 6.00, cost just $5.00, help improve your game whilst having some fun.
Getting Ready for the 2020 ITTF Champoinships. Steve Dainton visited Busan, Korea. Check it out (facebook link)
Have you got your tickets in our raffle to go to this event. !!!!!!!!!!
Country Week results.
Congratulations to all our Country Weeks teams. You have done our club proud. We came home with two trophies, C4, Adrian Rix, Casey Barker and Steve Bell and D4, Cody Luton, Max and Levi Geering. Max Geering was also leading player in D3. Dean Bilston was runner up in the over 30 singles.
Teams Results (PDF 160 KB) Individual results (PDF 875 KB)

Congratulations to Zac & Luke Van Zanten, bronze metal winners in the NSWTTA schoolboys cup, open senior division. 4 of the 6 local teams made it to the knock out phase. And a big thanks to Ken Smith for organising local players to be represented at this event.
AWTTA celebrate 50 years
What a great night it was for our 50 year celebration tonight, Friday 24th May 2019.
About 80 members attended and we enjoyed a dinner together before playing some doubles and singles matches.
There was a big announcement also made tonight, former AWTTA player, Steve Dainton, who is now the CEO of ITTF, congratulated the club on achieving 50 years , and he has donated a trip to the 2020 ITTF World Championship in Korea next year. The committee will decide on Monday how to use this generous gift donated by Steve.
Below is Steve's message and some photos from tonight.
Congratulations to our Doubles winners, Max Geering & Hans Blas and our Singles winner Jay Blanes.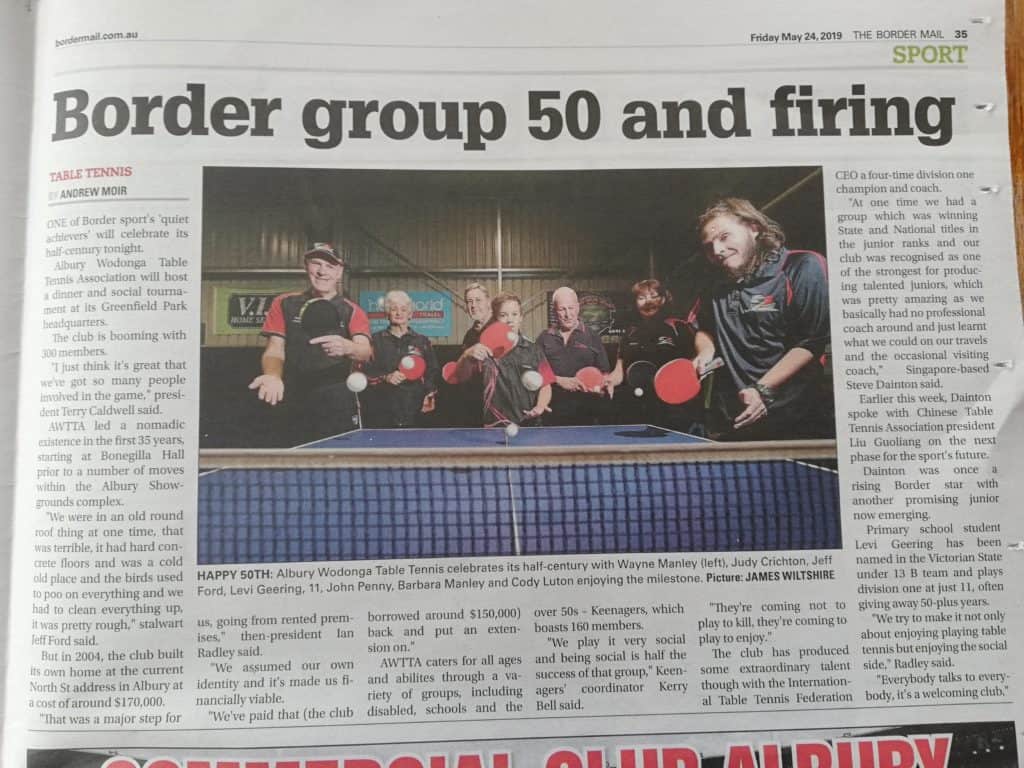 Levi Geering has been chosen to represent Victoria in the Under 13B side at the upcoming Wollongong event in July this year. Well done Levi, and good luck.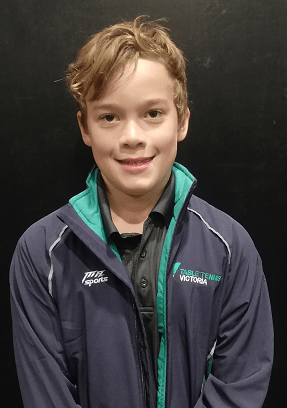 Monthly coaching

Sam Palmer, Mornington Peninsula Coach will be running coaching sessions at our club. The next is on June 1st.
There will be two sessions on each of those Saturdays, 9.30am to 12.00pm and 1.00pm to 3.30pm.
The cost will be $35 for one session (either one) and $65 for both sessions. Just $5 more than MPTTA sessions to cover some of Sam's travel costs.
Please book sessions for those two dates by emailing President@awtta.org.au
MARCH 14TH (THURSDAY) 12-2PM.
LATROBE UNIVERSITY MARKET DAY
Thanks to Darryl & Tylar Young for representing our club at La Trobe. Jarryd Tormey was there and had a game with Tylar.
MARCH 1ST (FRIDAY) 4PM-7PM
DEFENCE COMMUNITY ORGANISATION FAMILY EXPO.
We went to this event at Wodonga TAFEspace, Getting the word out to the local Community, and to our new Residents at Bandiana.